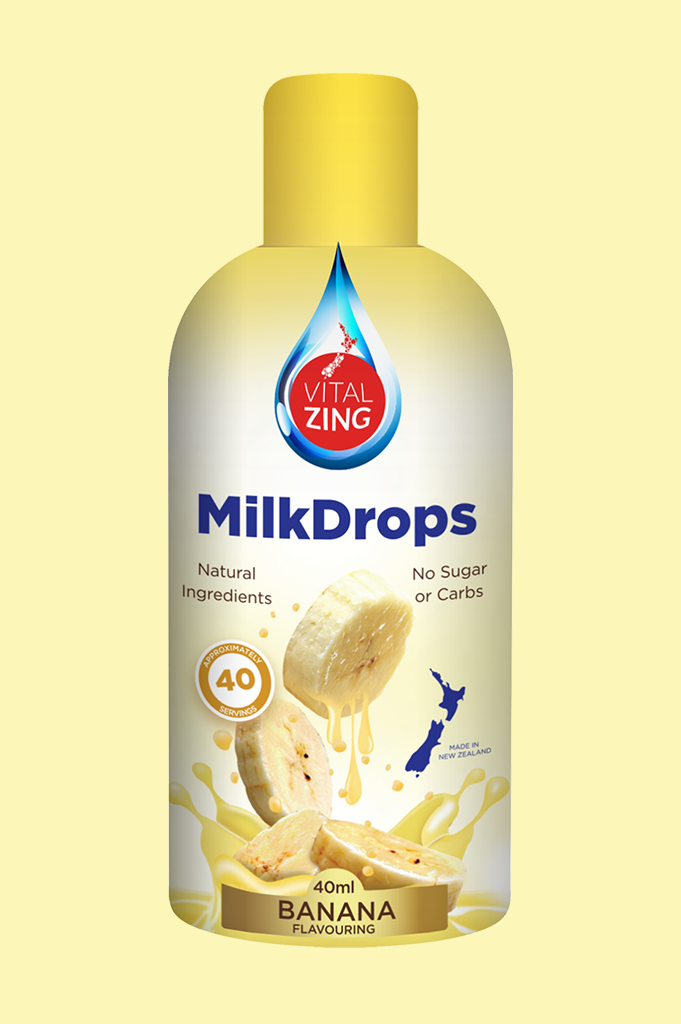 Banana Milk Drops
Identical to the memorable banana milkshakes from the corner dairy but cleaner and with so many more uses other than adding to dairy or milk alternatives.

Banana Milk Drops don't contain sugar, preservatives, carbs or artificial ingredients,. And it's not just for dairy or alternative milks like almond, soy, coconut or oat! Many people use them in smoothies or flavour natural yoghurt to remove the sour and bitter notes. They're even great in baking, creams and icings. With all natural ingredients Milk Drops are safe for anyone, and with 40 serves per bottle it's also the most cost effective way flavouring. Start experimenting with Milk Drops and see their true potential. 

Milk Drops are great for those who are involved in intermittent fasting or are on strict keto diets, plant-based diets, low-carb diets, low-fat diets, the paleo diets that may require no carbs, sugars or preservatives. Milk Drops can also help those on gluten free, dairy free, sugar free weight loss programs.
NUTRITION INFORMATION
Servings Per Bottle : 40
Per Serving Size : 1ml (does not include what you mix with)

Energy - 17kJ
Protein - 0g
Fat, total - 0g
-saturated - 0g
Carbohydrate - 0g
- sugars - 0g
Dietary Fibre - 0g
Sodium - 0mg

INGREDIENTS
Natural Flavour, Natural Sweetener (Stevia/Steviol Glycosides), Natural Colour (Curcumin)
Nutritional information

Per 100g
Add 10 drops (0.5ml) to 200ml water. Store in a cool, dry place.