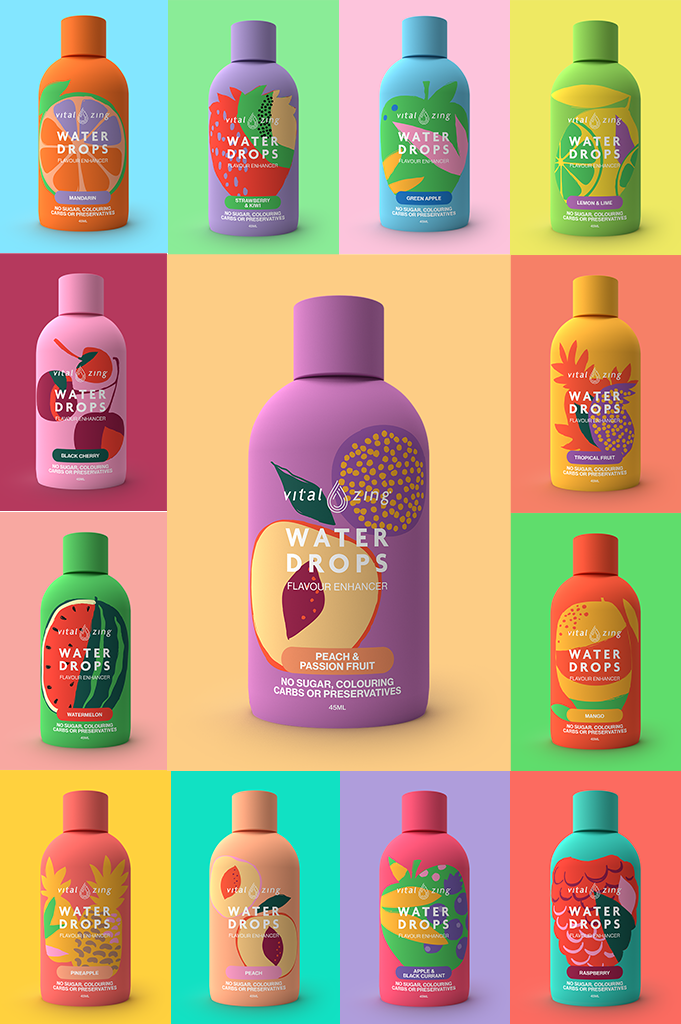 Water Drops Combo Pack - Box of 13
Vital Zing Water Drops Combo pack contains 13 bottles including Peach & Passionfruit, Green Apple, Tropical, Apple/Blackcurrant, Lemon/Lime, Pineapple, Strawberry/Kiwi, Raspberry, Black Cherry, Watermelon, Peach, Mandarin and Mango.
Vital Zing Water Drops are natural water/flavour enhancers with no sugar, carbs, preservatives or colouring. There's approximately 90 serves in every bottle with a long shelf life and no refrigeration required. Portable, convenient, versatile and cost effective. Just add 10 drops to a glass of water, adjust to taste and instantly you have an incredible guilt free way to enjoy hydration! 

Many people use them to flavour smoothies, natural yoghurt, teas, soda water, cocktails, baking, creams and icings. But basically you can use them to flavour ANYTHING!

Water Drops are perfect for those who are involved with intermittent fasting or are on strict keto, plant-based, low-carb, low-fat or paleo diets. Whether you're looking for a little guilt free flavour to help drink more water or move away from sugar laden drinks, you're going to love them! Water Drops are also great for those on gluten free, dairy free or sugar free diets.

NUTRITION INFORMATION
(When made as recommended)
Servings per pack : 90
Serving size : 200ml (10 drops or 0.5ml per 200ml of water, adjust to taste)

PER SERVE
Energy - 2kJ
Protein - 0g
Fat total - 0g
- saturated - 0g
Carbohydrates - 0g
- sugars 0g
Dietary Fibre - 0g
Sodium - 0mg

INGREDIENTS
Water, Natural Acidity Regulator, Natural fruit Flavours (Real fruit extracts), Natural Sweetener (Stevia/SteviolGlycosides)